Innovation Forum: IP Seminar Held at NUSRI
---
On 29th of April, the Innovation Forum: IP management in Biotech co-sponsored by NUSRI IP Institute, Suzhou Intellectual Property Bureau, Suzhou Medical Science and Technology Alliance was held in NUSRI successfully. It has won wide support from Flextronics International Ltd., Bioclub and InvitroCue Pte Ltd.. NUSRI IP Academy, as one of Singapore-China (Suzhou) Innovation Centre's platform, focuses on training international IP management and Commercialisation talents for the local technology environment. Throughout the last 1-2 years, many well-known international scholars and experts were invited to give IP and innovation speeches and training courses.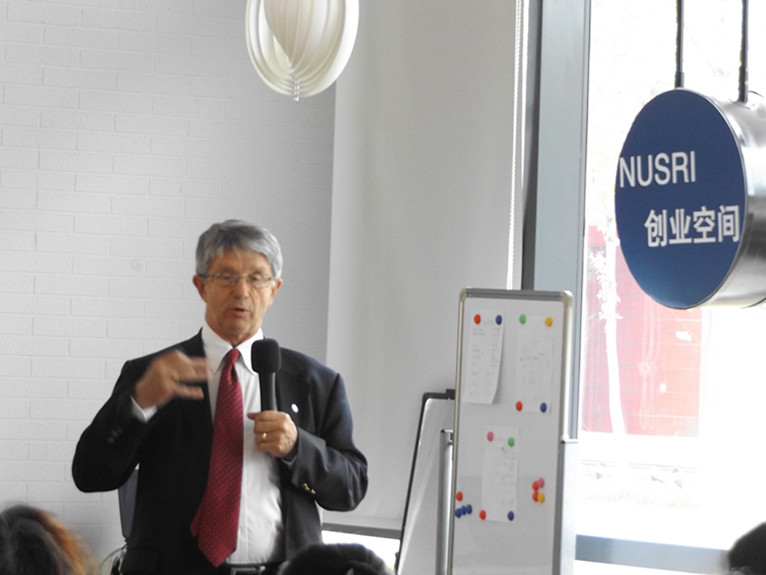 In this session, NUSRI IP Academy and the Enterprise Space invited Dr. Ashley J.Stevens, who shared his experience to attendees. Dr Stevens has a unique perspective on the transition of the Massachusetts economy from one based on mini computers to becoming the centre of the world's pharmaceutical industry. He worked in the Massachusetts biotechnology cluster for 33 years. The first nine years was in entrepreneurial biotechnology companies, one of which led to the cloning of the BRCA1 and BRCA2 genes for familial breast cancer and the next 24 years in academic technology transfer at the Dana-Farber Cancer Institute and Boston University. In this phase of his career, he helped start 55 companies based on technologies licensed from Dana-Farber and Boston University. Many of these companies went on to raise substantial amounts of venture capital.
In the first half of this seminar, Dr. Ashley J.Stevens shared on what an academic scientist who thinks he has made a scientific discovery that has the potential to improve patient care needs to do to start a company to develop the technology into marketed products. In the second half of the seminar, he examined the remarkable renaissance that has taken place since 2012 in the public markets for biotechnology, after a decade or more in which very few companies were able to go public, and looked at some of the hottest areas of current interest. At last, Dr. Li, director of InvitroCue Pte Ltd. shared the development experience of biological startups in the Singapore and China market.
The seminar was successful and generated much interaction and responses from participants from different IP institutes, patent operations offices and enterprises. After the seminar, the attendees showed much interest towards our institute and they looked forward to future participation in NUSRI events.
---