Education
Yung C. Liang received the Ph.D. degree in electrical engineering from the University of Sydney, Sydney, Australia in 1991. He is currently an Associate Professor with the Department of Electrical and Computer Engineering, National University of Singapore, Singapore. He was a Visiting Academic at the Japan Advanced Institute of Science and Technology, Japan, in 1997 and at the University of California, Berkeley in 2001-2002. His research interests include power microelectronics, silicon microsystems, micro fuel cells and ferroelectric devices. He has more than 140 journal and conference publications in these areas.
Dr. Liang is a member of the Phi Tau Phi Honorary Society and the Society of Industry Technology (Singapore). He served as the Chairman of the IEEE Singapore Section during 1998-1999. He was the founding member for the IEEE International Conference on Power Electronics and Drive Systems (IEEE PEDS) in 1995 and the IEEE International Conference on Sustainable Energy Technologies (IEEE ICSET) in 2008. He was the recipient of the IEEE Third Millennium Medal in 2000 and the IEEE Singapore Section Distinguished Volunteer Award in 2009. He also received the Transactions Paper Prize from the IEEE Power Electronics Society for his work on high-frequency smart power synchronous rectifiers in 2000. He currently serves as an Associate Editor for the IEEE Transactions on Power Electronics and the International Journal of Power Electronics.
Website:
http://www.ece.nus.edu.sg/stfpage/elelyc/
Research Interests
Power semiconductor devices and integrated circuits; Power electronics; Renewable energy sources; Smart dust system.
The die photo of the dc-dc converter platform for the smart dust mote (left); the dust mote was tested under the microscope with sensing and actuation functions
The research and development work on the power semiconductor devices and integrated circuits suitable for power electronic applications have been ongoing for more than 20 years. Various devices and ICs, such as power IGBT, synchronous rectifier, superjunction MOSFET devices, and power IC dc/dc converters, based on silicon technology were developed.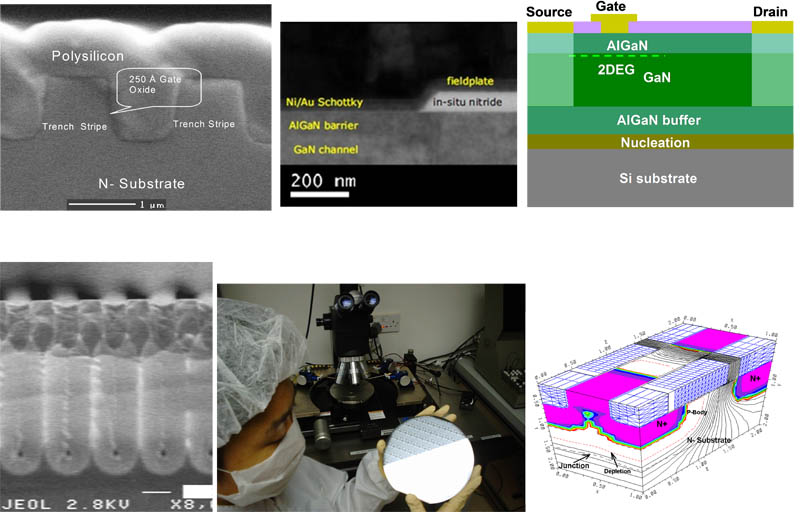 Various power semiconductor devices and integrated circuits developed for power electronic energy conversion applications
Representative Publications
1. Y Chen, Y C Liang, G S Samudra, X Yang, K D Buddharaju and H Feng, "Progressive development of superjunction power MOSFET devices", IEEE Transactions on Electron Devices, Vol. 55, No. 1, 2008, pp. 211 – 219 (United States)
2. M Qin, K Yao and Y C Liang, "High efficient photovoltaics in nanoscaled ferroelectric thin films", Applied Physics Letters, Vol. 93, No. 12, 122904-1-3, 2008 (United States)
3. M Qin, K Yao and Y C Liang, "Photovoltaic characteristics in polycrystalline and epitaxial (Pb0.97La0.03)(Zr0.52Ti0.48)O3 ferroelectric thin films sandwiched between different top and bottom electrodes", Journal of Applied Physics, Vol. 105, No. 6, 2009, pp. 061624-061624-7 (United States)
4. M Qin, K Yao, and Y C. Liang, "Photovoltaic mechanisms in ferroelectric thin films with the effects of the electrodes and interfaces", Applied Physics Letters, Vol. 95, No. 2, 2009, 022912/1-022912/3 (United States)
5. W Ji, K Yao, Y C Liang, "Bulk photovoltaic effect at visible wavelength in epitaxial ferroelectric BiFeO3 thin films", Advanced Materials, Vol. 22, No. 15, April, 2010, pp. 1763-1766 (Germany)
6. Y W Shwe and Y C Liang, "Smart dust sensor network with piezoelectric energy harvesting", International Journal of Intelligent Systems Technologies and Applications, Vol. 9, Nos. 3/4, 2010, pp. 253 – 261 (United Kingdom)
7. Y Chen, Y C Liang and G S Samudra, "Partial SOI superjunction power LDMOS for power IC applications", International Journal of Power Electronics, Vol. 2, No. 4, 2010, pp. 363 – 373 (United Kingdom)
8. C Y Lim, Y C Liang, G S Samudra and N Balasubramanian, "A smart-power synchronous rectifier by CMOS process", IEEE Transactions on Power Electronics, Vol. 25, No. 9, 2010, pp. 2469 – 2477 (United States)
9. Y M Yang, Y C Liang and K Yao, "Low-power fuel delivery with programmable concentration control for micro direct methanol fuel cells", IEEE Transactions on Industry Applications, Vol. 47, No. 3, May/June 2011, pp. 1470 – 1479 (United States)
10. W Ji, K Yao and Y C Liang, "Evidence of bulk photovoltaic effect and large tensor coefficient in ferroelectric BiFeO3 thin films", Physical Review B, Vol.84, No.9, 094115, pp. 1 – 5, 2011 (United States)