Education and Employment Background
PhD in Mechanical Engineering, University of California, Los Angeles (UCLA), 1992;
MS in Manufacturing Engineering, UCLA, 1985;
BS in Mechanical Engineering, National Chio-Tung University, Taiwan, 1980;
System Engineer (1992-1993), Unigraphics Solutions, Cypress, CA, USA
Professional Membership/Grade
Fellow (2009-), Society of Manufacturing Engineers, USA;
Fellow (2008-), American Society of Mechanical Engineers, USA;
PE, Manufacturing Engineering (1989-), California Board of Professional Engineers and Land Surveyors, USA
Research Interests
Biofabrication, Tissue Engineering, Additive Manufacturing
He has worked on additive manufacturing for over 15 years and recently he and his group has developed a novel biofabrication system using the E-jetting technique to generate and orientate micrometer-size fibers, and build engineered meniscal scaffolds with tailored internal 3D microstructure via layer-by-layer fabrication technique, replicating the internal microstructure resembling that of the native meniscus. Due to his work on additive manufacturing and its applications to biomedical engineering, he and his team has won the prestigious engineering achievement award from the Institute of Engineers Singapore in 2007.
Fig.1 Prototype biofabrication system for coating and scaffolding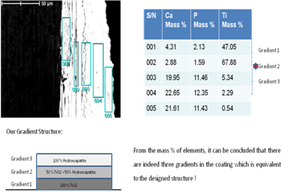 Fig.2 Bioactive functional-graded multi-material coating
Representative Publications
1. Sun, J, L Chang, E S Thian, J Li, J Y H Fuh, G S Hong, Y S Wong and W E J Wang, "Bio-inspired organic-inorganic composite coatings for implants via a micro-dispensing technique", Advanced Materials Research, 500 (2012): 662-672.
2. Chang, L, E S Thina, J Sun, J Y H Fuh, G S Hong, Y S Wong and W E J Wang, "Fabrication of functionally-graded hydroxyapatite/titanium oxide coating via drop-on-demand technique", Nano LIFE, 2, no. 1 (Biomaterials and Tissue Engineering) (2012):12500091-12500098.
3. Sun*, J, R Yang, K K Tan, J Y H Fuh and Y S Wong, "Performance characterization of drop-on-demand micro-dispensing system with multi-printheads". MicrosystemTechnologies, 16, no. 12 (2010)